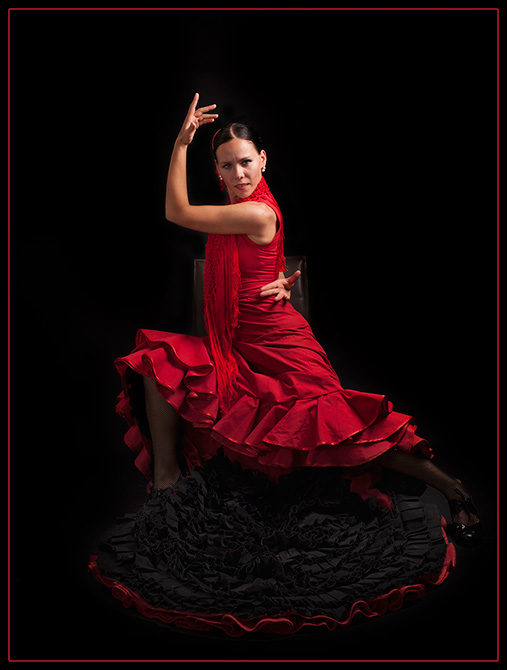 Elena La Grulla has become a reputed Flamencodancer.
At the age of 10 years she started Flamenco lessons. On her seventeenth, she moved to Madrid to study further at Academia de Flamenco "Amor de Dios".

Elena has a most conscientious style of dancing, combined with an impressive sense of rhythm (compás). Her dancing reflects an upright personality with an enormous amount of energy and sensibility.

She followed stages and classes by La Moneta, Marco Flores, Manuel Liñán, Joaquín Grilo, Manuel Betanzos, Alfonso Losa ... Since 2009 she has been performing at festivals and concerts, and she has won many awards and prizes: the prize "A la mejor interpretación de la danza" and in 2012 the "Premio del Jurado" (Festival the Flamenco ¡Viva España!). In December 2012 and 2014 she worked together with Maurice Leenars for his traditional Christmas concert. In 2012 and 2013 Elena was invited to perform at the Festival de Danza in Huesca (Spain). During two days in June 2015 Elena La Grulla and her group performed at NTGent Stadstheater . In 2017 she was invited by a talented young flamenco dancer Yúrentz Bermúdez to dance together in Arles (France) during the days of "la Feria". In 2018 Yúrentz and Elena worked together in Pau in "FlaMENco ShoW".

Among the latest projects for which Elena La Grulla was invited: "Festival Flamencura" (Moscow, Russland) as a solo dancer; as a choreographer and dancer for the Spanish evening organized by the Lille Philharmonic Orchestra.

ELENA LA GRULLA is a stylish and lively flamenco dancer, elegant and high-minded , gracious and generous.

Currently Elena teaches classes, workshops and concerts flamenco in the tablaos and theatres in Belgium, the Netherlands, France and Russia.